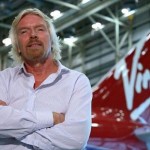 This month Wholesalescout looks at the rise of Virgin and the success of Sir Richard Branson.
Richard Branson is now one of the most successful business men ever. His company, the Virgin Group, is one of the biggest companies in the world and Branson is reportedly worth a whopping $4.2 billion – making him the 212th richest person in the world, according to the Forbes' 2010 list.
But what many people don't know is that Branson started from scratch and began his astonishing career with a modest wholesale business.
It all began in 1966 when Branson, at only 16, set up The Student magazine and a student advisory service.
Shortly after, in 1970, he founded his company Virgin, which was initially a mail order record retailer. His brand bought wholesale records, advertised and sold them at a discounted price compared to high street retailers and so became popular very quickly.
As his business grew, Branson wanted to expand his music company and so, in 1972, he opened his own record discount store in Oxford Street, London.
A few years later Virgin Records was formed and was hugely successful, signing artists like Mike Oldfield, The Sex Pistols and The Rolling Stones. The record group was sold in the early 90's and it was Branson's first big financial success.
During the past forty years his international brand has expanded immensely to include an airline and mobile phone (now Virgin Media) business.
Although his career started fairly modestly, Branson's own aspirations have always been ambitious. He has, on several occasions, attempted to break world records to heighten the profile of his businesses. In 1986 his Virgin Atlantic Challenger II succeeded in breaking the record for the fastest Atlantic Ocean crossing. This was shortly followed by his Virgin Atlantic Flyer – the only hot air balloon to cross the Atlantic, ever.
So how do you develop a small business into a world-wide brand? In a short Twitter conversation with fans (and Lord Sugar) in 2011 Branson shared some of his success secrets.
The main point from both this and the evolution of his business is to inspire your customers and to never give up.
@helirocket: In a "20 second elevator pitch" explain what you look for in a genuine business idea to grab your attention?
@richardbranson: An idea that stands out from the crowd. An idea that is original and will make a radical difference to people's lives.
@amitc: What is the simplest thing people do not realise about taking their own business to success?
@richardbranson: That all a business is is a group of people and the 100% necessity to inspire.
@ElspethYates: Do you think self-funding a start up and taking longer to set up is better than taking investment/loan?
@richardbranson: Self-fund for as long as possible, so you can keep as big a stake as possible.
@Lord_Sugar: Frequently asked question of me. If you were 18 again today could you achieve the same in this day and age.
@richardbranson: Hello Alan! I think so as long as I saw an opening that hadn't been filled. What about you?
@Lord_Sugar: I say yes, it's just the product or idea would be different
To read the full Twitter interview visit the Virgin website