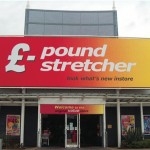 Poundstretcher was established over 30 years ago and is now one of the UK's leading discount brands. Find out about their rise to success in this latest wholesale success story.
Poundstretcher was established in 1981 by Paul Appell and Stephen Fearnley as a discount brand offering consumers a variety of products at low prices.
Priding itself on offering products at low prices, the company began by investing time in finding products at low prices from wholesalers and selling them on to the public at discounted prices. The brand originally started out by selling household items – marketing themselves to 'families on a budget'. Products that were sold (and are still sold in store) on a regular basis include kitchenware, household furniture, household decorative items and gardening accessories. Because of the rock bottom prices their popularity soon grew and subsequently the brand became a subsidiary of InStore. Although some stores have been rebranded as InStore, Poundstretcher stores still continue to open throughout the UK.
The brand has expanded its product portfolio since the eighties and now consumers can find an entire host of products in store including food, household goods like cleaning products and toilet paper, car accessories and Pick N Mix. Larger stores, called Poundstretcher EXTRA, have even been opened in some parts of the country in order to keep up with supply and demand.
In 2012 Poundstretcher purchased 20 stores from UGO after it went into administration. Six of the most profitable of these stores became a part of the Poundstretcher group.
There are now over 400 stores across Britain and the company recently opened their first international store in Dubai.