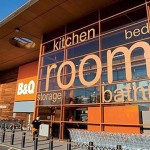 Once a small store, B&Q has now grown into a worldwide company and is the largest DIY retail chain in the UK.
Wholesale Scout looks at the company's rise to success.
B&Q was originally founded by Richard Block and David Quayle and was once known as Block & Quayle. The company was founded in 1969 in Southampton and the first store was opened in the Portswood area of the city – the current headquarters still remain in Southampton. Block & Quayle specialised in sourcing and stocking DIY and home improvement equipment from wholesalers and selling them onto members of the public. During the next decade the company expanded dramatically, opening a total of 26 stores across the country.
By this time the two founders had left the business, the brand had become B&Q and was bought by Kingfisher plc. Specialising in DIY and home improvement equipment, the brand further developed its offering during the 1990's by opening B&Q Depot stores across the UK. The depot stores offered more variety of stock and were much larger than their predecessors.
Since then B&Q has developed stores all over the world. The brand specialise in selling home improvement equipment and garden products. The company now has over 350 stores in the UK and employers over 30,000 people across the country.
Three million customers visit B&Q retail stores every week and the company achieved a turnover of £3.7 billion last year – a long way from the company's humble beginnings!