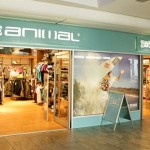 An idea born from two surfers, Animal is now one of the biggest extreme sports clothing brands around. Wholesale Scout explores its success.
Although it's now known as one of the biggest extreme sports clothing brands in the UK, Animal had fairly humble beginnings. The brand was set up in 1987 by two surfers who were trying to solve a problem. After losing their watches in the sea during countless surfing sessions, the duo wanted a wrist strap to help their accessories survive harsh sporting conditions. They quickly realised there wasn't anything on the market so they came up with a strap that could cope with extreme conditions and would help to secure their watches whilst surfing. The 'webbing hook and loop strap' was created and the pair quickly realised its potential. Setting up production in a room in one of their houses they began buying wholesale materials and making and selling straps to friends and other surfers. The straps became quite popular amongst the local surfing community and the pair were able to use the money earned from their sales to travel abroad and sell their product to other surfers across the globe.
Soon after their travels the duo realised the potential of the strap and began selling it into other extreme sports industries including windsurfing, snowboarding and skateboarding. The success of this led to the creation of an Animal branded watch – fully water proof and suitable for most extreme sports enthusiasts. The product was extremely popular and is still sold today by Animal.
Only ten years after its inception Animal was bought by H Young Holding and expanded its portfolio to include the sponsorship of extreme sports professionals. As well as this, there are 47 Animal stores in the UK and some in other areas of the world and their products include clothing, watches, wetsuits, eyewear, footwear, luggage and accessories.
It has come a long way since its creation out on the water. The brand has become a multi-million pound company and is now part of a group which has annual sales of over £150m.