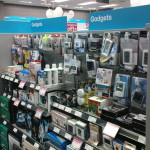 There are now over 200 Maplin Electronics stores in the UK but the business started out in a small room in Essex. Wholesale Scout find out more.
Maplin Electronics was established in 1972 and was created by Roger and Sandra Allen and Doug Simmons. As most businesses start, the idea for Maplins came from the creators' frustration at trying to find specialised electronic components. The creators felt there were not a lot of electronic suppliers on the high street and so set about solving the problem. The business was started at the Allen's home and was originally a catalogue business. To drum up initial customer interest the three entrepreneurs placed an advertisement in an electronics magazine. The company started trading and despite not making much profit in its first year, the brand became well known as an electronics component supplier. Customers were able to choose products from the Maplins catalogue and they were delivered first class directly to the customer's front door.
The mail order business continued to grow and eventually the team had to open their first store to cope with demand. Their first store was opened in Westcliff-On-Sea and shortly after a second store was opened in London.
As the business began to grow there came more demand for space, and that's when the first Maplins warehouse was opened. The brand then began to specialise in selling kits like extension keyboards and soundcards and were known for selling specialised products. The business became so popular that in 1994 the turnover of the company was reported as £29 million.
Shortly after it was bought by Saltire PLC and the brand began to extend its reach. An e-commerce website was established and Maplins began to sell a range of items including audio visual devices, components, computers, cables and everyday electrical essentials.
In 2013 the company opened a dropshipping arm to increase its product range further. Dropshipping allowed Maplins to list products for sale on their website without stocking them – once a customer makes a purchase the stock is sent directly to the customer from the supplier.
The business continued to grow and in 2014 it was bought by Rutland Partners for £85 million. Maplins is now one of the biggest electrical brands on the high street – it's an online, telephone and mail order business and there are currently 205 stores throughout the country.