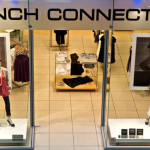 French Connection is a UK based fashion retailer which operates on a global basis. So how did this retailer rise to success?
The brand was initially established in 1972 by Founder and CEO Stephen Marks who spotted a gap in the market. He wanted to create high-end fashion items without pricing products out of consumer reach and so he began exploring the low-cost high-quality manufacturing market in Hong Kong. As not many retailers had done this it was a lucrative move and Marks set up French Connection (aka FCUK) with only a £25,000 capital investment.
The company started to create well-designed fashionable items and began to make its mark on the British high street. Known for its innovate designs and fashion forward brand, French Connection became popular with consumers quickly and just ten years after its creation founder Marks had built up an estimated £40m fortune. Alongside building the business Marks was able to grow his own portfolio – investing finance in the film Lock Stock and Two Smoking Barrels and he built tennis academies throughout the world.
But the fashion business was what was truly taking off. French Connection designs, produces and distributes clothing items to 50 countries around the globe and the brand has branched into other areas too. The brand now has a home section and also sells men's toiletries, women's toiletries, accessories, watches and shoes.
There are now 131 French Connection stores in the UK and the e-commerce site accounts for 20% of retail sales.
The company's revenue was £189.4m last year and the brand, although it has faced slow sales in recent years, looks set to have a profitable year. Football star Adam Lallana has just been announced as the brand's menswear ambassador ahead of the World Cup in Brazil. The star is fronting their menswear autumn campaign and with a healthy order book already it looks set to be a promising year for the retailer.