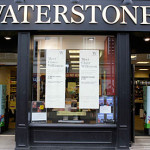 It's now one of the biggest book retailers in the country. So how did Waterstones rise to success? Wholesale Scout take a look at the company's story.
Tim Waterstone, the founder of Waterstones, decided to set up his own business after he was made redundant by WH Smith. Waterstone had a £6,000 redundancy package which he used to start his own chain of bookshops. The entrepreneur had the idea of making his own book retail chain and wanted to make it stand out from the rest. He wanted to employ literate staff with a passion for books and reading and he wanted to develop new shop window displays offering books based on booksellers recommendations, different to his competitors. Waterstone opened his first store in 1982 in London's Old Brompton Road and the brand soon became popular with book enthusiasts. In its original years Waterstones was known for being a quality book reseller – stocking up on a variety of titles and offering a variety of niche markets instead of purely consumer driven stock.
A decade after the first store opened, WH Smith took over the Waterstones brand and bought it for £47 million. The buy-out enabled the brand to become bigger and expand – with the first US store opening in Boston in 1991. In the late 1990's the company was then sold to HMV Media plc. In 2006 Tim Waterstone tried to buy the company back, but failed, and the HMV group continued to take ownership of the brand. During the following years the company experienced a drop in sales and store closures but shortly after, in 2011, Waterstones was bought by Alexander Mamut, the owner of Russia's biggest mobile phone retailer, for £53 million.
The sale saw a new board of directors and a new business strategy – the retailer began to focus on its original ethos of recommending quality book titles. The shop window displays of the latest celebrity books were gone and in came recommendations from local staff and booksellers. The company has gone from strength to strength since 2011, and in 2012 the company signed a deal with Amazon to begin selling the Amazon Kindle and e-Books in store.
Today there are over 275 stores across the UK and the book retailer employs over 4,500 booksellers throughout its stores. An average sized bookshop contains 30,000 individual books and 200,000 titles can be found in the largest branch. The flagship store on Piccadilly in London is the biggest bookstore in Europe.