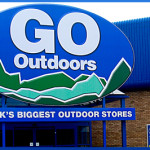 Go Outdoors was established over 40 years ago and originally started out as a small camping and caravanning store in Yorkshire.
The company, founded by John Graham and Paul Caplan, was originally branded Camping and Caravanning Centre (or CCC) and the first store was opened in Sheffield. The company originally began life as a manufacturer. Noticing a demand for higher quality trailer tents and camping furniture, the company focused on supplying these products to the specialist market.
A few years later the company moved to larger premises and during the 1980s consumers all over the UK became more interested in camping and the outdoors in general. Today it's still one of the most popular holidays for families in Britain. Many families choose a 'staycation' as opposed to travelling abroad and camping and caravanning are the number one holiday choices for consumers staying inside the UK. Due to this growing consumer demand CCC eventually developed into a retailer and concentrated on stocking the latest camping equipment and accessories.
During the 1990s the company began to branch into the outdoors clothing and footwear market and in 2004 the company was rebranded as Go Outdoors. The first store opened that year in Coventry.
As the brand began to grow the company widened their product offering – offering products in a variety of markets including cycling, fishing, running and climbing. The company's goal was, and remains, to offer the widest variety of outdoors equipment to consumers at the lowest prices.
There are now 42 stores throughout the country. If you're interested in finding out more about the camping and outdoors market, why not look at our camping and outdoors wholesalers page.