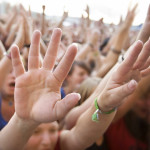 Festival season has arrived and so this presents plenty of lucrative selling opportunities for your wholesale business.
Every summer UK consumers travel all over the country to visit some of the biggest festivals around and to enjoy some of the latest music. Glastonbury, Isle of Wight, V Festival, T in the Park and Reading and Leeds are just a few of the festivals that see thousands of people attend every year.
Most festivals in the UK offer day tickets and weekend tickets, with the majority of festival goers camping over a weekend. The biggest festival in the country, Glastonbury, sees around 150,000 people visit the site every year. And with consumers needing to hit the shops before heading to a festival to stock up on some essential items, there seems to be plenty of profit making opportunities for resellers.
Popular festival purchases include wellington boots, backpacks, tents, sleeping bags, camping stoves, hats and fancy dress items. And in good weather sales of sun cream, flip flops and beach wear often increase.
A study last year by My Voucher Codes revealed that the average festival goer spends almost £400 a year on festival supplies alone. The study also showed that the average festival attendee spends roughly £1600 a year on festivals – the figure includes purchasing a ticket, supplies, travel and buying food and drink on site.
So with this in mind, if you are looking to boost your sales this summer then investing in wholesale festival items could be a lucrative decision.
The Wholesale Scout have access to the most competitive suppliers offering a variety of products needed at a festival including wholesale outdoor items. Start browsing the wholesale directory now to contact these suppliers.