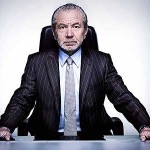 Wholesale Scout looks at the success of Lord Alan Sugar, star of The Apprentice, and how he converted his rags to riches.
Although he is now worth an estimated £750m, Lord Alan Sugar started out with a small wholesale business that was organised and run from a van.
The entrepreneur and businessman was born in 1947 in the East End of London and always showed a flair for business. So much so that in order to earn extra money and create savings during his school days he used to boil and sell beetroot from a stall.
Despite leaving school at the tender age of 16 and coming from a modest family, Sugar formed a lucrative company very early on. He ran his first wholesale buying business from the back of his van – which he bought for only £50. The wholesale business involved buying and selling-on electrical items including TV and car aerials. He often spotted goods in local markets and sold them to the public to make a profit. Sugar was evidently very good at it because in 1968 he went on to forge his most famous company Amstrad. The company was named after the millionaire himself (Alan Michael Sugar Trading) and manufactured electrical goods including audio, telecoms and TV products.
His other businesses have included Amscreen (digital advertising) and Amsair (currently run by his son Daniel Sugar) which supplies business and executive jets to clients. As a result of these successful ventures Alan Sugar was knighted in 2000 for his contribution to business.
In 2007 he sold his Amstrad business to Sky for an estimated £125m. Although Lord Sugar sold his business he has taken on a number of other high-profile roles including becoming the chairman of Tottenham Hotspur FC until 2001.
Most recently he is known for his role in the BBC reality program The Apprentice which is used as a platform to launch young entrepreneurs.
The man now known for his 'You're Fired' finger still plays a large role in his own business portfolio and is testament to the fact that hard work and product knowledge breed success.
He continues to offer advice to aspiring business owners – in January 2011 he wrote a piece on the Telegraph website and offered some words of wisdom;
"My message to those who run a small business is that at this time of year it's good to have a good look in the mirror and rethink your strategy. Consider why you started your business. I assume it was that you have some experience or expertise in your field, and that is the big point – don't rely upon anyone else. It's going to be you who defines the way forward."