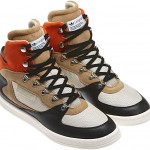 Footwear is sold all year round and so for your reselling business this could be a profitable product purchase.
The UK footwear industry is worth almost £8bn in the UK and a variety of brands and styles are purchased throughout the year.
The winter months see sales of boots and wellington boots soar whilst in the summer flip flops and sandals are purchased. A quick glance in any high street retailer will show you that footwear is big business – most major retailers stock them. Some items are stocked for fashion and others for practicality and as the seasons change, retail stock changes on the high street.
If you want to boost your wholesale sales throughout the year and during seasonal periods then it's definitely worth targeting footwear, both designer and high street brands.
The Wholesale Scout team have searched for wholesale footwear suppliers and have found a number of suppliers offering goods at very competitive prices. Amongst some of the stock found are Ugg boots, sports trainers, biker boots and occasion footwear. There a host of brands to choose from too including Adidas, Ugg, Nike and Reebok.
One trend that doesn't seem to have changed is biker boots. They can be found all over the high street and so there is a demand from consumers for products like these. Search the website today to find wholesalers of these items that can offer stock at good prices and start boosting your wholesale sales!