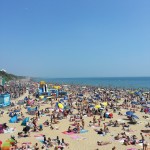 With a heat wave hitting most parts of the UK, beaches across the country have seen thousands of consumers flocking to the sea to enjoy the weather. And with many families preparing for more beach days in the next few weeks, there are plenty of beach products you could be selling and making a profit from.
Whether you choose to target an area by the beach to sell from (ensure you have permission from the local council) or you head online to sell from your eCommerce website or other websites like eBay or Amazon, you could be making some healthy profits on summer products.
So what kind of products should you be purchasing? Most people that head to the beach take a picnic and food with them and so cool boxes and picnic bags will be popular this summer. Similarly, most people take beach towels as many people will be sunbathing or swimming in the sea this summer as temperatures are set to exceed 30 degrees. Other products that may be worth investing in include windbreaks, bat and ball sets, beach games and books.
The team at Wholesale Scout have spent time searching for some of the most competitive wholesalers so our members don't have to. And there a number of competitively priced wholesalers on the Wholesale Scout website – offering you the chance to increase your profit margins. Check out our list of beach wholesalers offering some attractive mark-ups and we have also found suppliers specialising in wholesale beachwear.
With the UK weather as unpredictable as ever, get searching for these products now before the heat wave ends!