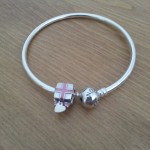 Jewellery is a profitable market and if you stock up on the right products then you could be boosting profits too.
A recent study by Mintel revealed some interesting figures about the jewellery market and just how profitable this sector can be. The jewellery market in the UK is worth over £2.5 billion and with so many different jewellery items on offer, this market is also very versatile.
Popular jewellery purchases include necklaces, bracelets, rings and earrings. The team at Wholesale Scout have been searching for the most competitive jewellery wholesale suppliers so members don't have to do any searching. And some of the wholesalers found are offering jewellery at very competitive prices. These wholesale prices will mean you can purchase stock at well below the RRP price and make a healthy profit margin when it comes to reselling.
So what products can you purchase at low prices for your wholesale business? There is a Pandora bracelet within the wholesale directory being offered at a competitive price and charm bracelets are very popular at the moment. This DKNY bracelet could also be a lucrative purchase. There are a variety of other designer brands on the Wholesale Scout website too including Michael Kors, Fossil and Diamonique.
The recent report by Mintel also revealed that almost a quarter of consumers like to receive a watch as a gift. There are a number of wholesalers specialising in men's and women's watches within the wholesale directory, so to explore this market and to find out how much you could be making, register now.